Oh may god, it's almost 3.00 a.m right now and I've just finished my Dec'12 report which I need to submit to HQ by tomorrow! I am now in Japan, undergoing my 6 months intensive language course before joining the HQ office in April'13. It's been a roller coaster ride here in Japan, but let's just say I'm doing alright now. I just came back from my winter vacation in South Korea and it's snowing like crazeee!! I only have 2 more days left to complete my countless homeworks before school starts again on Wed (yet I'm blogging!). Well, I need to do this quick post for my beloved friends before my life gets hectic again with all the Japanese thingy to memorize!
Specifically, it's all about Bigbang's Alive Tour Concert : Special Finale in Kyocera Dome, Osaka on 24th November! Yeah, my new JVIP tomodachi got me a ticket which costed about 10,000Yen (RM400)!! I went to the stadium alone, rode the wrong train once (haha!) and asked a Japanese couple for directions (which coincidentally on their way to the concert as well!) so I managed to find the big octopus shaped-dome. Lucky me, people could understand my poor Japanese and when the staff showed me my seat I was like...WOAHH!! Is this for real?!!! I was more than happy to get the 3rd row seat but an official JVIP seat is just too awesome to be true!! I love you so much Mihyang Chan!!
Okay, actually Mihyang Chan got me and Nori Chan (both are my JVIP tomodachi from Twitter!) seated next to each other. It's my first time meeting Nori Chan and my oh my was she a bubbly lady! So sweet and friendly! I was quite embarrassed to cheer for the boys at first but Nori Chan was being more than a sport waving her light stick like there's no tomorrow! And so I followed...LOL!
The Kyocera Dome stadium was so magnificent with the capacity of 50,000 people. First time attending concert in Japan I could see that JVIP are very well-behaved fans! Not like in South Korea, though. Everything was very well coordinated and we really enjoyed our self. Bigbang sang most songs in Japanese version so whenever they sang the Korean version I went all crazy just to sing-along! Too bad Dae Sung didn't get to do his flying action during Wings. I was waiting for that to happen. Seungri gave the most fan service (as always) running to every sections and waved at the fans. They poured golden confetti in the air and I just looked at fans trying to grab it without knowing there's Bigbang signatures on each ribbons! Uwaa!!! I guess the best moment was when JVIP sang My Heaven chorus part before the encore. 1 word : S-U-R-R-E-A-L!
I brought my Malaysian flag with me and Nori Chan was very kind to help me waved it the whole time during the encore! We were pretty sure (like 80% sure!) that Yong Bae and Seungri saw us..hahaha..mission accomplished! Well, I guess that's about it. The songs lists and performance were pretty much the same with their other concerts. I wished I could understood better what they were saying though. I mean, it's not like they are fluent in Japanese (except for Seungri). Erm, maybe I should try to listen more carefully on their 13th Jan's concert? Opps...did I spilled out the beans??? Hihihi.......Until we meet again!!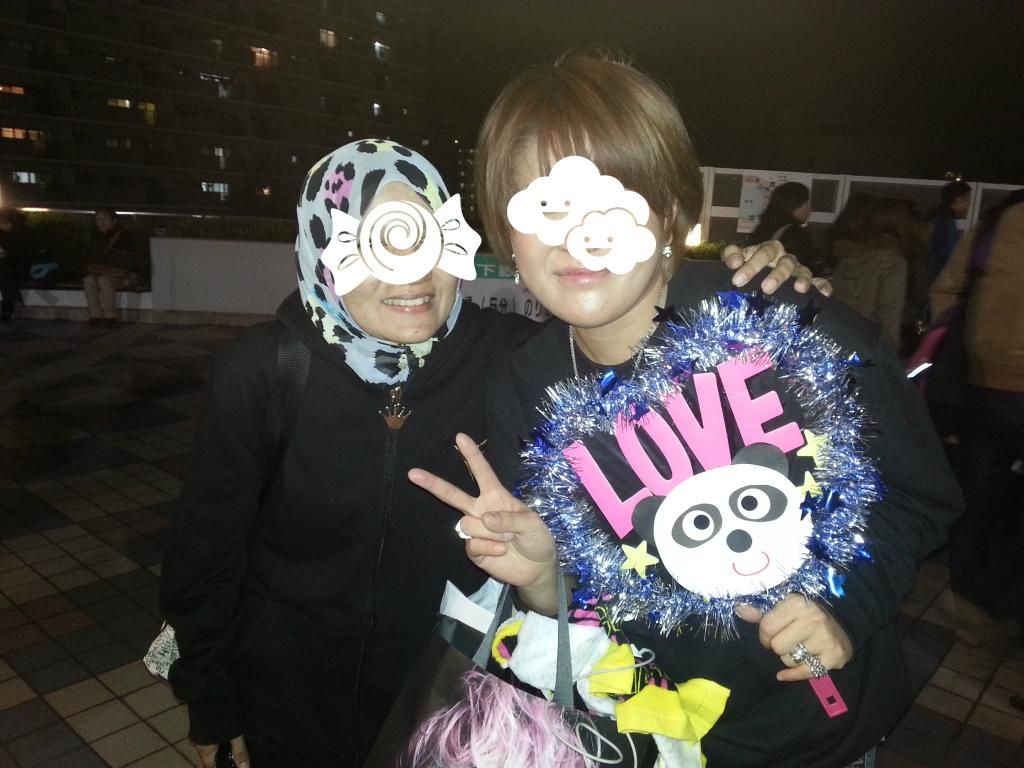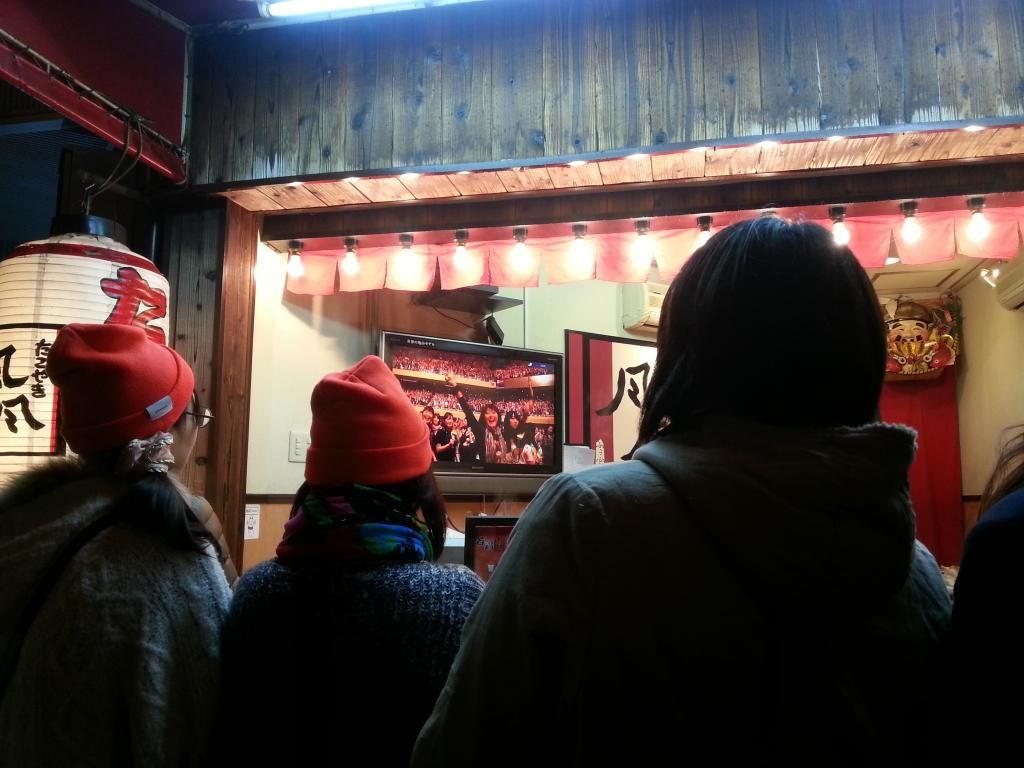 Takoyaki Stall nearby airing BB's concert to attract customer!! LOL!!